Libby Volunteer Fire Department member training includes instruction in a variety of disciplines of firefighting strategy and tactics. The objective of our structured training program is to maintain an aggressive response team with a proficient level of skills and knowledge.

Our team of firefighters routinely trains with various organizations and individuals throughout the community in the areas of comprehensive classroom instruction with hands-on training and emergency medical rescue and extrication exercises. As a unit, we spend many hours not only training in live fire suppression and new equipment orientation, but also train within environments involved with hazardous materials, propane emergencies, and decontamination scenarios.

The Libby Volunteer Fire Department is dedicated to maintaining a high level of preparedness by enhancing the abilities of all personnel to better serve the community and strengthen the safety of our firefighting team.
Specialized Crude-by-Rail Training
Security and Emergency Response Training Center
Pueblo, Colorado
In July of 2014, firefighters Scott Beagle and Steve Lauer traveled to the Security and Emergency Response Training Center in Pueblo, Colorado to participate in a three day specialized training session focused on preparation for and emergency response to railroad incidents involving explosive crude oil.

During the simulated exercises, firefighters Scott and Steve trained with hazardous materials specialists practicing response techniques, suppression tactics, and control issues during mock derailments. Participants of the program were also instructed on several pre-incident planning and preparedness strategies including an overview of the chemical and physical properties of different types of crude oil currently being transported, tank car design and construction, and most importantly, incident site and damage assessment to minimize the catastrophic impact of a crude oil tanker derailment.

The specialized Crude-by-Rail training program, developed and funded by Burlington Northern Santa Fe, is the company's response to the rising safety concerns in light of increased volumes of the transportation of crude oil via our nation's railroad system.

This training, also applicable to other hazardous spills, provided the knowledge to properly respond to a crude oil tanker derailment protecting life, property, and the environment.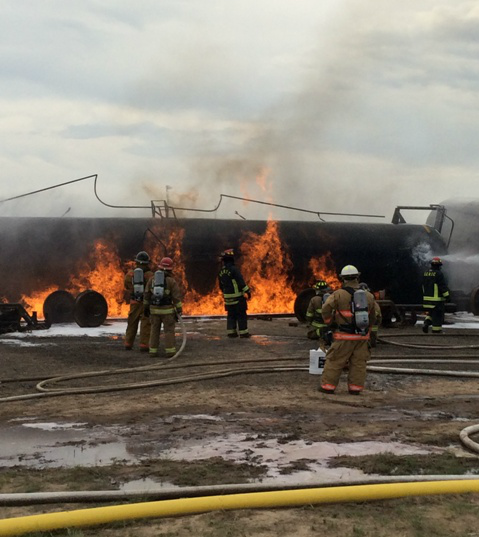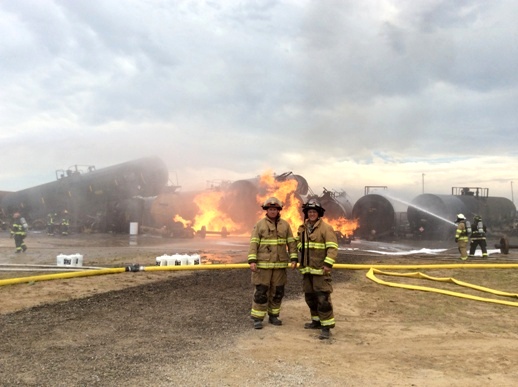 Live Fire Acquired Structures Training
When opportunities arise, the Libby Volunteer Fire Department utilizes abandoned structures to provide fire personnel with invaluable hands-on, fire ground experience in a controlled environment. Furthmore, the volunteers are able to gain additional experience by performing fire attack drills, managing hose lines, and improving search and rescue techniques.
Specialty Training Exercises
Cross-training with a multitude of organizations throughout the community provides our firefighting crew with continuous training opportunities to help keep our first responders safe in today's diverse emergency situations.
Preparedness Exercises for Vehicle Extrication Incidents
Routine hands-on vehicle extrication exercises are an especially important part of our training program at the Libby Volunteer Fire Department. The scenarios, which simulate "real-world" emergency situations, provide participants with the confidence and the techniques needed for a successful and immediate extrication of auto accident victims who quite often are suffering from life-threatening injuries.
Specialty Training Exercises
On a regular and continuing basis, our team partners with select groups of our community to conduct training drills based on real-life rescue scenarios. Each incident gives participants not only the chance to improve their skills, but also gives the participants the chance to train together and prepare for a mutual aid situation.